Recently we caught up with two stalwarts of the capital markets community, Brad McNee, Fixed Income Product Manager at TP ICAP, the world's largest wholesale intermediary, and Julien Dugat, Cross Product Sales at NatWest Markets, one of the UK's largest capital market participants, to learn about their latest plans to offer innovative services to their clients. Underpinning the discussion was an omnichannel approach to delivering data to the clients. However, the ubiquity of Excel, which still remains the most widely used application across capital markets, was the focal point and how it's used by TP ICAP and NatWest Markets. With so much technological innovation over the last few years, the simple question we had for them is why is Excel still pivotal to their plans.
Faster to market with new products and services
One of the critical reasons Excel is still so prevalent is its wide use for things like pricing engines, a bridge to other systems and developing a proof of concept. It may be the entry point to client interaction but it's often not the final destination. These days, clients expect interaction across multiple channels, including chatbots, email and APIs. The point is, according to Julien, Excel represents an ease-of-use solution for many clients.
"We use ipushpull and Excel across FX and rates markets to deliver live axes. Because Excel is already being used by many of our clients, it's easy to roll out new services to their Excel client. It also saves us time, meaning we can launch new products and services faster."
It's a similar story for TP ICAP, Brad goes on to say.
"The beauty of Excel is the client doesn't need to engage in a large enterprise-wide rollout of new technology. The entry point can be as simple as an Excel add-in, deployed to a handful of users. However, getting the data into Excel for many is the stepping stone to extending that data to other channels and applications."
Omnichannel is the next wave everyone is riding
This view was backed up in a recent poll ipushpull conducted where we asked business leaders how many were considering Excel as part of their live data distribution strategy.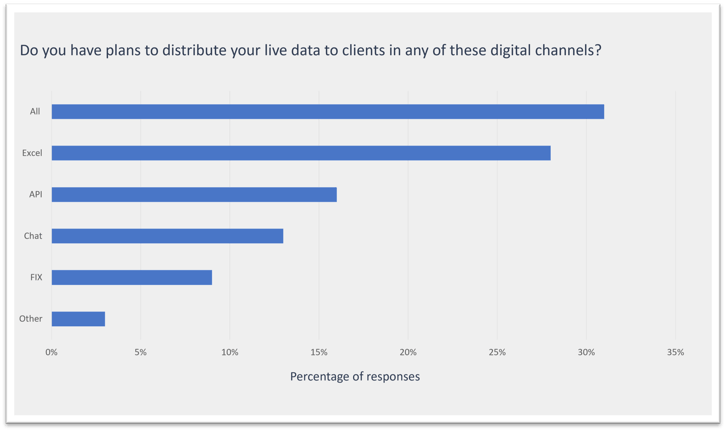 Over 30% of respondents agreed it was already part of their plans, however, most also responded by saying that they were also investing in FIX, APIs and chat solutions. So it's clear that Excel is the entry point for many, but often not the only channel in a myriad of apps and business systems. The question many face is whether to buy a ready-made solution or build it yourself. ipushpull often gets involved with new customers after they have invested in building themselves only to find it cumbersome to manage and maintain. Development times spiral when looking to add additional channels such as chat, APIs and FIX. With ipushpull, you can give teams and clients live access to the data they need, in many applications.
ipushpull and Excel: Your live data solution
We have demonstrated that organizations across the financial landscape need live data delivered where and how they need it to ensure a successful 'last mile' of data delivery – ipushpull resolves these challenges with its effortless integration with Microsoft Excel.

Using ipushpull, live data distribution to Excel and Excel-driven workflows can be deployed seamlessly to teams and clients, in an application they're familiar with, overcoming any connectivity issues with their live data service that they may have experienced previously and without competing for desktop real estate.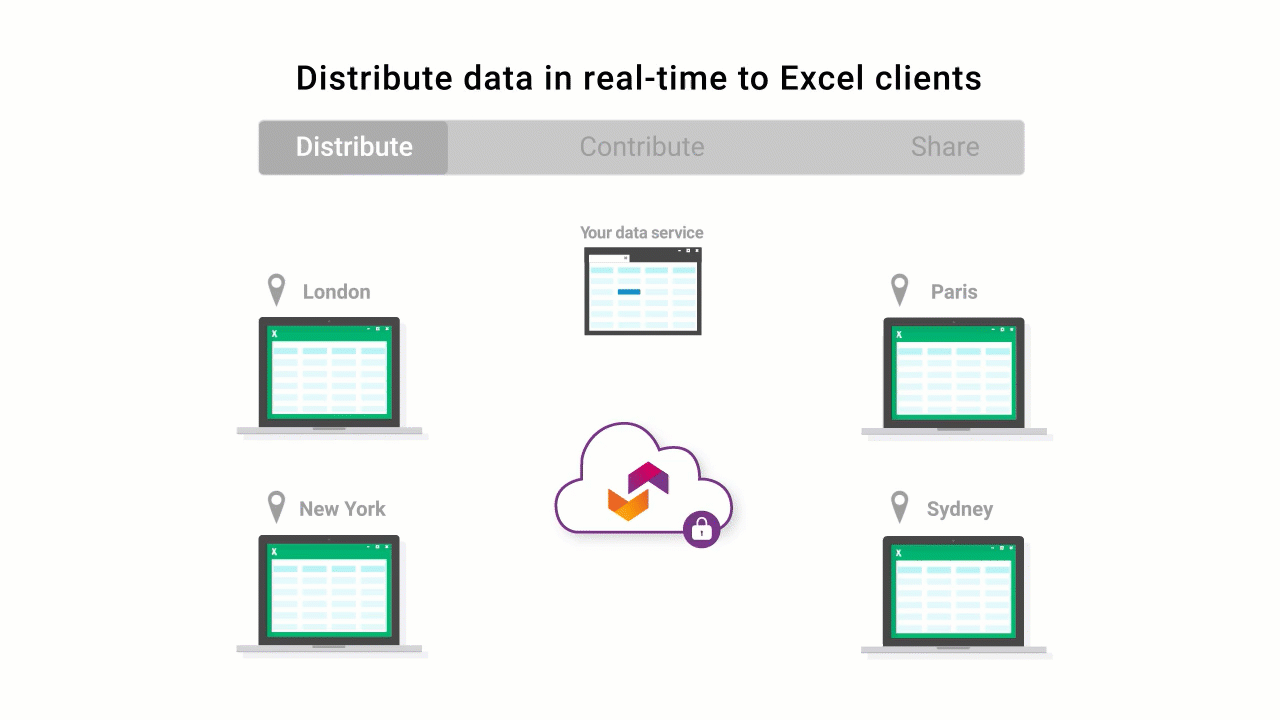 In addition, once data service providers connect their data to ipushpull, data can be shared to Excel and chat, APIs and 20+ other integrations. Meaning, that with one connection ipushpull, provides omnichannel last-mile delivery so that data service providers do not have to build add-ins, apps, bots or integrations and instead can focus on their core offerings. And, as mentioned in the webinar, this democratises access to core grids of valued, real-time data rather than having to mine large data files sent over periodically.


View on-demand, to hear the rest of the chat with Brad and Julien. Learn more about our Excel add-in solutions. Or feel free to contact us.