Using Excel as part of your digital and platform strategy to deliver live data to clients
Once you submit the form, you will be redirected to view the webinar on-demand.
ipushpull needs the contact information you provide to us to contact you about our products and services. You may unsubscribe from these communications at any time. For information on how to unsubscribe, as well as our privacy practices and commitment to protecting your privacy, please review our Privacy Policy.
Panellists: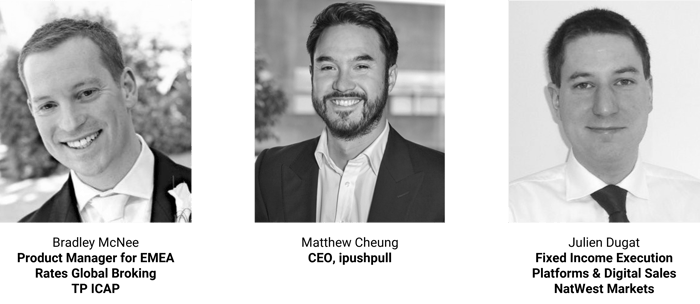 Session info:
Live data drives decision-making in financial markets. Traditionally, traders, brokers and data services firms have taken a tactical approach to their live data sharing requirements, connecting systems with in-house development projects, often combined with off-the-shelf technologies not designed for reliable live data sharing across teams and locations.
Excel is ubiquitous with a presence on every desktop in financial services and, therefore, should be considered as part of a digital and platform strategy to enhance the client experience by delivering data to clients in a format they can easily use. Using cloud technologies and open-source standards, Excel can be made extensible and interoperable with other services and apps on the desktop and cloud.
Hear from Julien Dugat, Fixed Income Execution Platforms & Digital Sales at NatWest Markets and Bradley McNee, Product Manager for EMEA Rates Global Broking at TP ICAP in a roundtable discussion with Matthew Cheung, CEO of ipushpull. Both will share their experience delivering live data to teams and clients by leveraging existing technology infrastructure such as Excel and other application channels. We will explore the key use cases for trading and broking firms and the benefits on offer.
This session is available to watch on-demand. Please fill in the form opposite to access the recording.
Learn more about ipushpull's live data solutions