Share live data from your in-house platform or cloud service directly into your client's Excel
Push live data directly into your client's Excel and other desktop or mobile apps by connecting to our secure distribution platform using our suite of APIs, and benefit from ipushpull's powerful access controls and usage monitoring.
Live data direct to clients
Live data direct to clients
Connect your data from any source (API, database, chat, Excel) and share in real time or on demand directly to your client's desktop MS Excel spreadsheets. No more cutting and pasting and no more email attachments – it saves time, minimises errors and makes it live.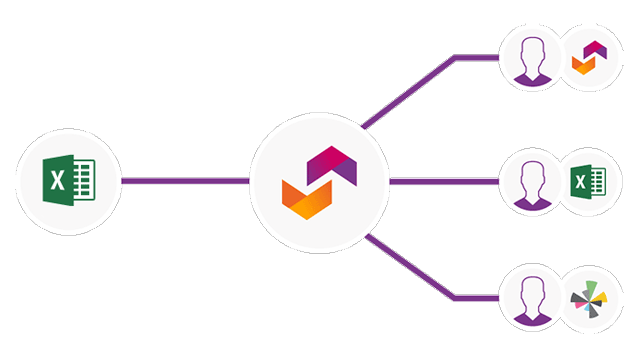 TP ICAP
Solution use case - TP ICAP
TP ICAP was looking to lower the TCO of their Excel add-in, whilst improving the client experience and desk revenues. We partnered with them to build and manage their Excel add-in, and achieve:
-Lower Total Cost of Ownership
-Solution delivered in weeks
-Compliance with data security requirements
-Customised client service
To find out more go here.
Data on demand in Excel
"We can now offer a functionally rich Excel plugin for desktop users to access our reference data, which integrates seamlessly within users' existing workflow"

Mark Woolfenden, Managing Director of Euromoney TRADEDATA
Make on-demand the future of data consumption by providing your clients the power to pull data in real time, as and when they need it.
Excel Desktop Audit
Excel Desktop Audit
ipushpull lets you monitor and control usage of desktop spreadsheets across your organisation in real-time.