In a recent blog, we highlighted that if chat and collaboration platforms are looking to replace email then ipushpull is positioned to replace file attachments and file sharing.
In the past few years, driven by version control frustrations, email fatigue, security concerns and the desire for faster, more interactive communication, the sharing of information via email is increasingly being overshadowed by a growing range of collaboration tools.
This space is occupied by a combination of familiar tech heavyweights together with specialist collaboration app providers where Microsoft Teams and Workplace by Facebook compete with the likes of Slack, Symphony and Atlassian's Stride.
The development of this new set of messaging and collaboration applications offers new channels for ipushpull's real-time data interoperability for end users in applications they already use. ipushpull is one of the first providers to really push to the limit the capabilities of these new collaboration tools, making it easy to share spreadsheets into Slack and Symphony along with other data.
In recent years, Slack has become one of the most popular and established applications in the chat space and has seen incredible growth with 6 million active daily users. It offers cross-team channels, private groups and 1-to-1 direct messages for messaging as well as file sharing.
However, even though Slack allows spreadsheets to be uploaded on the go, there is still no way to view them in the app itself. For sharing data from Excel spreadsheets, this can be a big drawback introducing the common problems of version control and collaboration difficulties associated with files. While users of Google Sheets still have to jump out of Slack (and thus context switch) to see their data, leaving ipushpull as the only app on the market that allows users to share spreadsheets into Slack.
How to share spreadsheets into Slack with ipushpull
Until now there has been no way to view selected ranges of data from spreadsheets within the Slack chat platform. ipushpull's Slack app offers just this – the ability to pull a selected range of data from a live spreadsheet directly into a Slack channel whether that's a snapshot, live data or streaming data, in a secure encrypted form, so everyone on the channel can view and collaborate on the very latest information.
The ipushpull Slack app can support a wide range of use cases where customers have a need to share data in a secure way. Static, live or streaming data may be shared within the channel manually or via simple ipushpull Slack bots. Let's explore a couple of use cases to explain how this functionality can be used.

Snapshot, or static, data
Snapshot data may be shared manually or automatically when certain user-defined criteria are met. For example, a manager of a chain of retail stores may share sales data with management or staff by copying and pasting data into a chat channel, instead, they can improve the scalability and efficiency of their service by using a bot (also provided by ipushpull of course) to share the current state of sales or automatically alert management when a sales target is hit. All from a spreadsheet connected to Slack via ipushpull.
Live data
Live data enables someone in a team, working in a collaborative way, to make updates to data in their Excel spreadsheet, or local database, for example, and have that automatically – in real-time – update in the 'team' Slack channel. For example, a multi-national enterprise, with a bid team working in diverse locations, can use chat and ipushpull to collaborate on a financial model in a spreadsheet with changes reflected in real-time within the Slack channel. The 'no files' model combined with the use of live data ensures the model is maintained in a single version and is always up to date.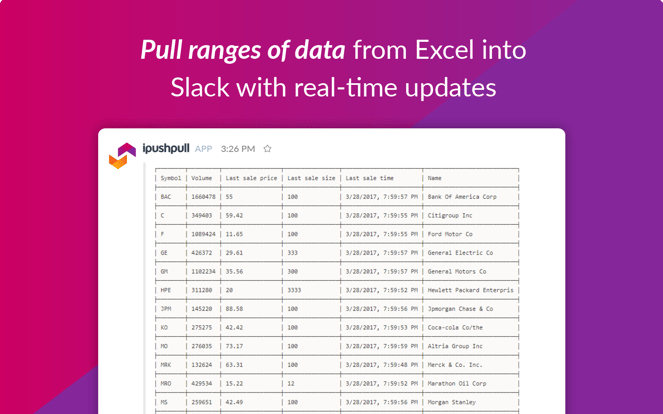 Streaming data
Streaming data allows a real-time 'ticking' feed of data to be viewed in Slack. For example, whether monitoring the US stock market or live sporting results from one of ipushpull's streaming 'public' pages, or providing access to 'in-house' private streaming data in manufacturing or health sectors, ipushpull delivers the ability to share true real-time updates in fast-changing environments where access to up-to-the-second information makes all the difference.
These use cases demonstrate just some of the ways ipushpull's chat integrations can be used to enhance and improve workflow and communication within organisations. And with the recent launch of shared channels within Slack, which support intra-company collaboration, there will be many more to come.
So chat is great – but it takes more than just chat to make real improvements in business efficiency. That's why ipushpull is focused on taking chat to the next level.
Sign up for a free trial of ipushpull today and share spreadsheets into Slack, as well as other data.