Microsoft sent shockwaves across the Fintech industry this week as they announced their LinkedIn acquisition for a whopping $26.2 billion! Microsoft's CEO, Satya Nadella, released a public overview of the agreement that begins to touch upon how this will transform data collaboration and integration on the web; things that ipushpull has been working to improve with their Excel plugin.
The negotiations for the largest acquisition in Microsoft's history began a few years ago when Nadella and LinkedIn CEO, Jeff Weiner met at a networking event. Until now, Facebook's acquisition of WhatsApp has held second place for the world's biggest tech purchase of $19 billion in 2014; more than 12% of Facebook's total market value at the time. AOL remains the industry's clear largest with their $106 billion acquisition of Time Warner. Despite being acclaimed as the most expensive merger, it is also considered to be the least successful, often being labelled as the worst merger of all time. Let's hope that Microsoft won't be following suit.
Nadella and Weiner recently began working more closely, meeting for dinner in April this year to discuss future plans for the companies. Public opinion suggests that they are looking to maximise their synergies after the recent troubles they have been facing. The question on everyone's mind seems to be how they are going to amalgamate the different services.
Integrating Microsoft Office with LinkedIn
Nadella explained how the purchase of LinkedIn is "the coming together of the professional cloud and the professional network."This is the key focus as they start diving into the best means of integrating their services. They are looking into ways of including the Microsoft Office suite in order to enhance the LinkedIn user experience. So far, a great deal of emphasis has been put on the development of LinkedIn's newsfeed. Other examples include incorporating PowerPoint and Excel spreadsheets, as well as data collaborations to help connect users through their email, calendar and Skype.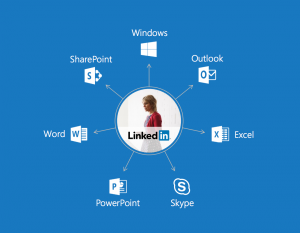 At the moment, Microsoft needs to rely on other platforms such as Facebook to access a social graph as they don't have their own. LinkedIn offers that social graph and due to its professional nature will be directly beneficial as Microsoft offers professional-based services.
Microsoft is particularly interested in one of LinkedIn's subsidiaries, Lynda, a service for professional training videos. They have already suggested at looking into embedding those videos into Excel and their other services.
Data Collaboration and Security
The problem of sharing and consolidating data from different locations is a huge problem today. As these companies merge, they will attempt to minimise this issue by pulling together the silos of information available on users' LinkedIn and Microsoft Office platforms. Microsoft will be gaining access to more than 400 million LinkedIn user profiles which can give them helpful insight into what people value when searching for jobs. By utilising this knowledge, they can future develop their software to new heights. However, as it helps to share people's information, cyber security issues are always close to follow.
Here at ipushpull, we also realise and attempt to solve issues of data collaboration, sharing, and security by working with Excel. Together these types of technologies will all work together in creating a more coherent web with easier and safer access to information.