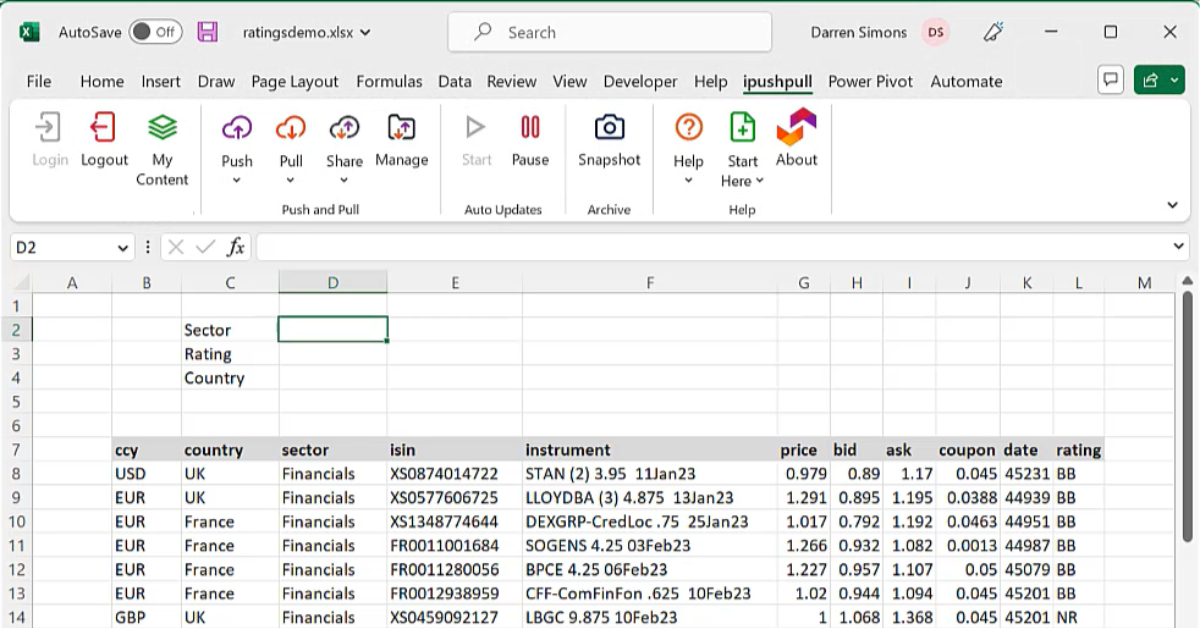 In a recent article, we described how to use ipushpull to stream smaller data sets live into Excel, while also providing on-demand access to larger data sets from chat using chatbots. Combining these features we've now launched Excel on-demand for services offering remote access to large data sets, direct from client-side Excel.
Generally, while Excel can easily connect to a large data set in a local database, using ODBC or Power Query for example, providing access to large amounts of data in a remote data service is more challenging.
Poor UX is failing end users
While end-user customers may have access to data service screens or applications, they often really want the data delivered direct into Excel, avoiding any clunky copy/paste and mapping. In order to achieve this, data services still often transfer data out to the customer as large files, which then need to be opened and processed in Excel. This means that for the end user, getting access to the data can be very inefficient, the process of searching through the data can time consuming, and the data may not even be up to date by the time they get to see it. This can contribute to an all round pretty poor user experience.
Barriers to growth for data services
From the perspective of the data service such delivery methods are restrictive in terms of commercial charging models and also the speed with which new customers can be technically onboarded. Furthermore, trying to understand usage patterns and demand within a customer organisation can be near impossible when the service is being delivered exclusively as a set of files each day. Who's using the data? What for?
So, while Excel remains the desktop data processing and analysis tool of choice for the finance community, existing approaches to offering remote access to larger data sets hosted by 3rd party data services can be very inefficient for the end user, while often holding back the growth of the data service business itself.
What other technical solutions are out there?
Excel itself offers a host of options for importing data or connecting to data sources - from ODBC to PowerQuery to the very latest Azure Data Lake connections. However, while these connections offer a lot of flexibility, they may not offer the level of control and security that commercial data services demand, or may not even support remote access. They also typically have a high dependency on the end user being able to set up and configure the connection, making onboarding of new customers challenging.
Data services looking to provide this sort of access are often left with the only viable choice being to develop the technology themselves. However, this can be a high-risk approach, particularly if their internal developers don't have the right experience in integrating into 3rd-party desktop applications like Excel or chat platforms.
ipushpull Excel On-demand
ipushpull has launched its Excel On-demand feature to tackle exactly these problems. A data service now simply needs to connect its data to its ipushpull platform through a choice of off-the-shelf data loaders or API connections. The data can then be automatically mapped into a "queryable" structure and be made available on-demand to any client applications supported by the ipushpull platform, now including Excel. Queries from the end-user are returned immediately with a huge improvement in the customer UX and the source data can be kept up-to-date with regular updates to ipushpull as frequently as the service needs.
Below is a demo of Excel on-demand, where the user can query large data sets.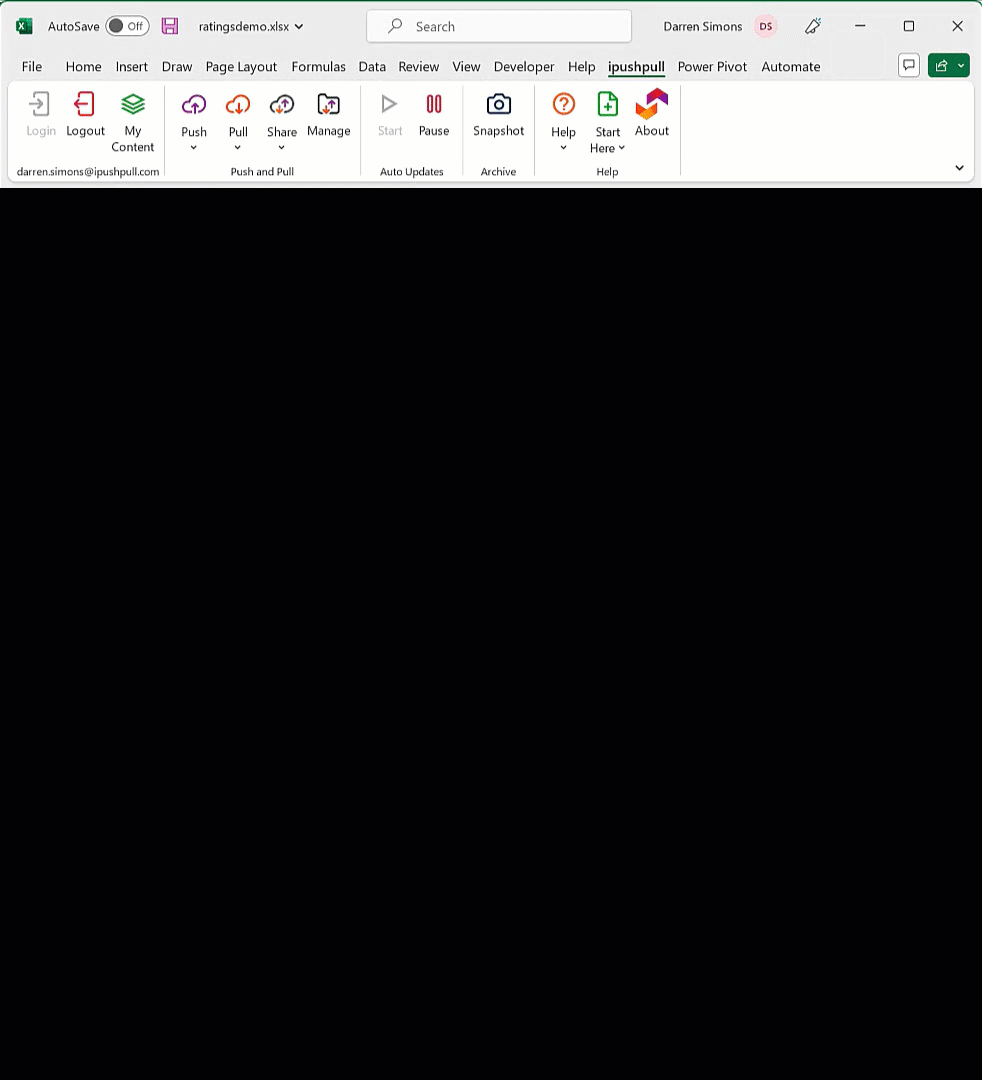 A no-code out of the box solution
ipushpull provides more than the pipes to deliver snapshots of data to the user on request. You can configure whole suites of generic or client-specific queries or "Views" which can accept parameters too. Your clients will have fast access to their favourite queries from within Excel, passing filter parameters through and receiving information in near real-time. This can easily be automated, too, by setting up watchlists for clients so they get notification "nudges" when the data they're interested in updates. Access can be controlled by package, client type or data set, and it can all be set up and delivered by the support desk without any development required.


Example use cases
When a data service wants to offer on-demand access to Excel end users, ipushpull is the perfect solution. Examples of finance-based services include:
• Instrument Reference Data
• Trade reconciliation
• Complex Trade pricing (ETFs,TRS)
• Valuation models
• Exchange Data
• Corporate Actions Data
A better UX and a more flexible, scalable approach
If you're a data service and...
you're struggling to onboard new customers
you'd like to give your customers a better UX
you feel you don't have much oversight or insight into what your end users are doing with your data
you'd like to scale your business using more flexible commercial models
Then ipushpull could be the perfect solution for you!
Get in touch and we'll build a PoC for you within days and have you up and running within weeks.