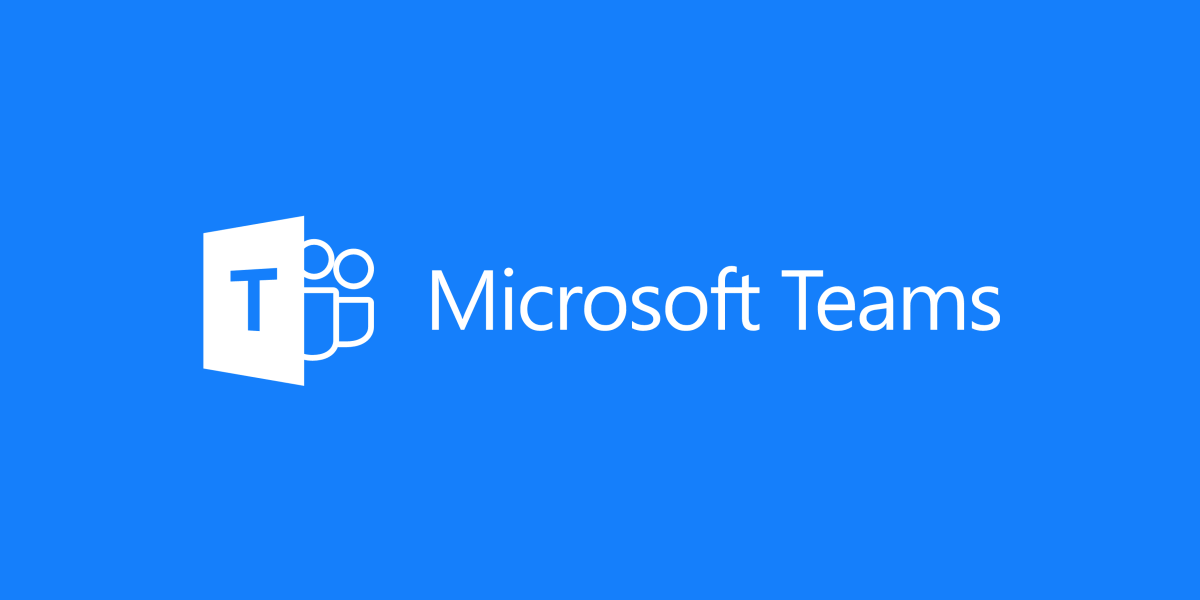 Earlier this year Microsoft executives were internally pushing for a bid for Slack at about $8 billion (at the time Slack was valued at $3.8 billion). However, this was vetoed by none other than Mr Gates and CEO Satya Nadella. They both believed that it was better to build than to buy, and chose to beef up Skype instead. So Microsoft Teams was developed as a "chat-based workspace that's focused on real-time collaboration". The first look at Microsoft Teams generated an interesting reaction from their biggest rival, Slack.
Yesterday, on the morning of Microsoft's launch of Teams, Stewart Butterfield the CEO of Slack took out a defiant and defensive full one-page advert in the New York Times (see below).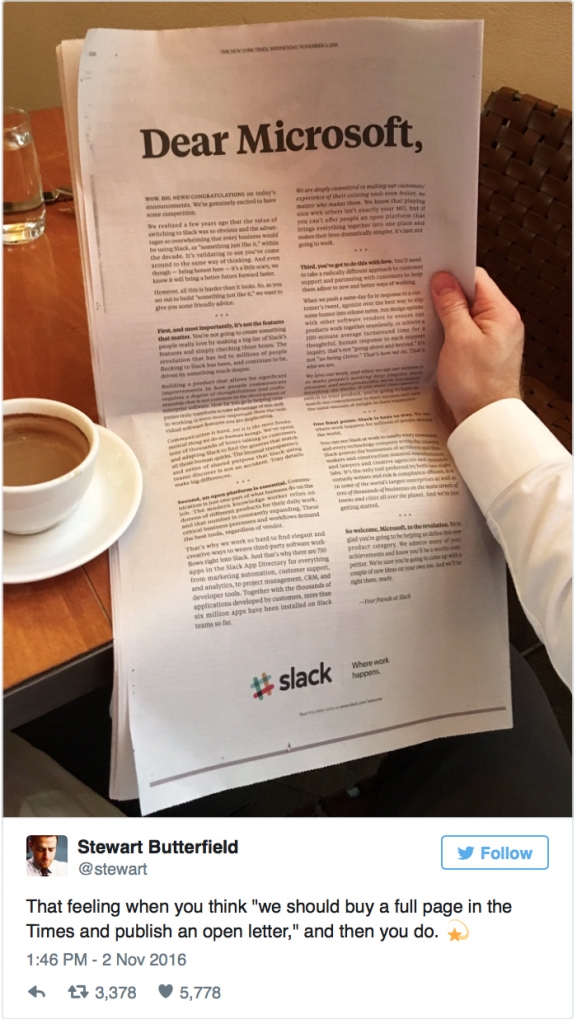 ….but Slack has good reason to be concerned.
Here is what our first look at Microsoft Teams showed
The overwhelming first impression is the excellent integration with online Office365 (Excel, Word, Powerpoint, Outlook etc..). It is very impressive. This will immediately be of interest to enterprise users familiar with the Office ecosystem who hadn't even considered Slack before. Microsoft 1, Slack 0.
Slack is the fastest-growing start-up in history because people are fed up with email, especially for collaborative work. In addition, Slack has had extremely strong user growth because the real-time chat effectively becomes a 'one-stop shop'. Slack users can pull information from any integrated 3rd party service, directly into a chat channel without having to open another program. For example, you can pull in Salesforce data while you are having a chat with your sales team or the developer team can have automatic server messages within a chat. This concept of pulling information into Slack from different sources has also helped the recent rise of "Bots".
However, Microsoft yesterday demonstrated similar capabilities by pulling Twitter messages into Teams and is looking to build a similar suite of offerings and integrations as Slack has. ipushpull will be one of them.
We found the UI to be cleaner than Slack, even if it is noticeably slow. Perhaps, because everyone around the world is testing it out for themselves.
Live data in Microsoft Teams
The tabs feature is very cool. For example, you can add an Excel tab to a channel which displays any Excel files that are on Onedrive. You can make changes in desktop or online Excel which, after a refresh, will be viewable on the Teams tab. Great for collaborative working. However, you cannot display live data in Excel on Teams. This is where ipushpull comes into play.
While we work on a full integration for Teams, in the meantime we can integrate a full ipushpull page within Teams using the HTML tab function. Et voila you can get live real-time data on Teams direct from desktop Excel.
Who will win the race from here?
Perhaps Microsoft Teams makes Skype for Business and Yammer redundant. My guess is that ultimately Microsoft wants to get everyone using an Office365 account (I couldn't log on with an ancient Hotmail account for example) which is why you can't import your personal Skype contacts (quite annoying). There is also a much greater scope for richer integrations into Microsoft Teams, compared to Slack's mainly text-based interface.
It feels like Teams is a superior offering for enterprise users. Slack may well be the contender for the anti-Microsoft crown aimed at non-enterprises, start-ups, small businesses and millennials who did not grow up with Microsoft and use Google Apps for Work instead. Office 365 does have 85 million users versus Slack's 4 million and this is a great offering from Microsoft to stop 'pesky upstarts' biting at their heels. Looks like they have learnt from their mistakes with Yammer.
To see how easy it is to get live data into Excel, Slack and Microsoft Teams, sign up for a free trial of iPushPull today.