Distributing data to your clients from your internal platforms and services should be easy. However, building external integrations and controlling and monitoring third-party access to your data is an expensive and ongoing development task. The result is that data is often still shared using email, file sharing services or via FTP – all of which are difficult to automate and are not live.
ipushpull eliminates these pain points by connecting your systems and services to our secure platform, enabling your clients to access your data live in the applications they want to use. With powerful and flexible access control and monitoring built-in.
With one connection to ipushpull you can share data between 20+ applications and your local platform in real time. You can even use ipushpull to create your own APIs to share with your customers.
Connect your existing service in real time to the
ipushpull platform through our suite of APIs
API

Streaming

JavaScript

.NET
Python

FIX
and deliver your service live to remote users of
ipushpull

Excel

Symphony
Bots

Microsoft Teams

Slack

WhatsApp
API
OpenFin
Cosaic - Finsemble
WordPress / Website
Connected, audited, seamless
Streaming or on demand
Share data in real time from your local platform or cloud service and deliver it live or on demand to remote client applications including Excel, chat and ipushpull's desktop and mobile apps. And send real-time notifications as your data changes.
Secure and access controlled
Control user access to your data down to the individual cell level and monitor who's accessing it. Your data is encrypted in transit and at rest.
Quick & Easy
ipushpull's live web and mobile apps and add-ins for the applications you're already using mean it's quick and easy to deploy and there's no development needed.
Benefits of ipushpull
Benefits of ipushpull
Live, secure and easy to use
ipushpull integrates with your current systems, eliminating file sharing, reducing manual processes and preventing version control problems. It's a more flexible, powerful and controlled way to share data from your local systems
Give your customers and clients access to key data live
Improve efficiency, productivity and service
Improve control and analysis of data usage and consumption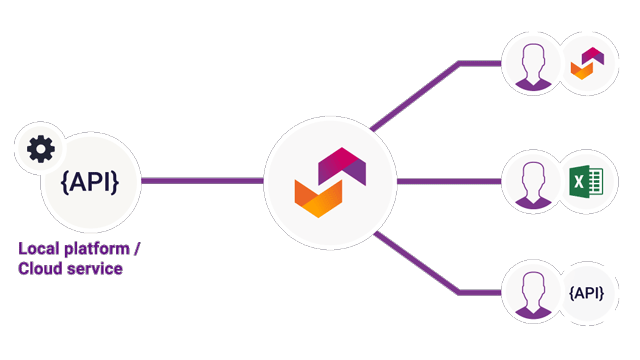 Your Cloud Service or
Local Platform
Typical Use Cases
Typical Use Cases
Distribution, aggregation, monitoring
Improving security, visibility and productivity and reducing risks across different functions and industries
Bank: distributing trade axes via API into client-side Excel, Symphony and API
Broker: distributing live OTC prices to client base from an internal pricing engine
Asset manager: sending trade orders into ipushpull custom app in Symphony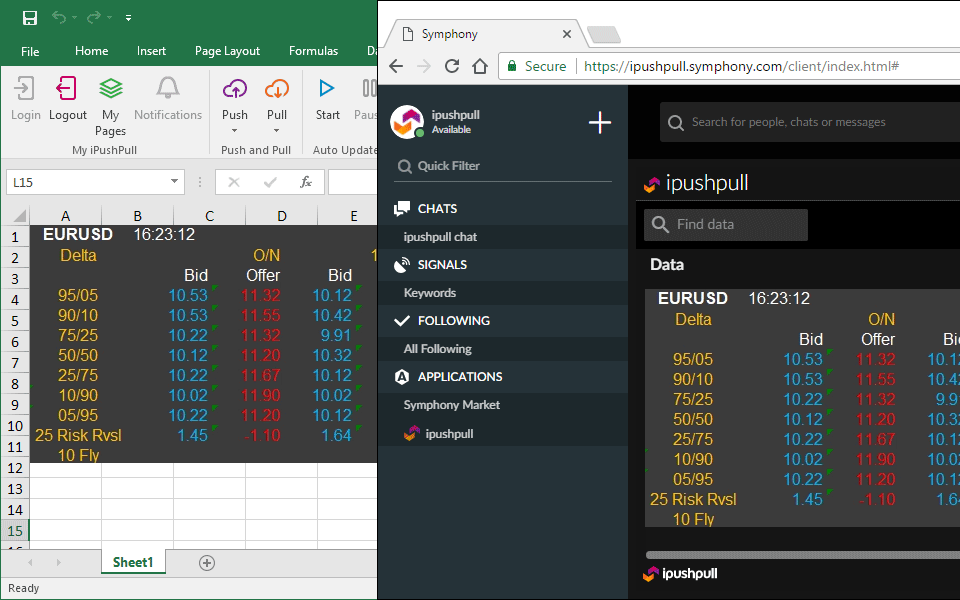 Your live data on your clients desktops