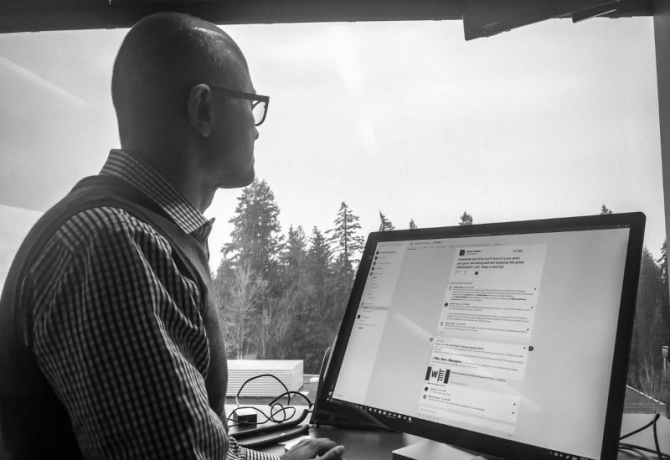 Microsoft Teams is no longer in the soft launch or 'customer preview' as the $500 billion company likes to call it. As of now, Teams is included in the Enterprise and Small Business versions of Office 365. During its soft launch, the collaboration platform managed to attract more than 50,000 companies (including Accenture, ConocoPhillips, Deloitte, Expedia and Sage to name a few) and have added over 100 new features and integrations which include bots, the ability to email channels and audio calling from mobile devices. Also including a host of other features pointing to the technology trend of convergence.
Why the mad rush to get Teams out to market? Well, the answer is Slack, the white-hot collaboration platform that is the fastest-growing business application ever. With 5 million users Slack isn't afraid of the 40-year-old incumbent demonstrated by its brazen NY Times advert back in November.
The Supreme Art Of War Is To Subdue Slack And Launch Teams Without Fighting
However, it looks like Microsoft's strategy is not to directly target Slack users but to pick up Office 365 users (all 85 million of them) who do not use Slack or any other similar applications – something we picked up on in our previous blog on Microsoft Teams back in November.
Since then the workspace collaboration platform market continues to heat up with Google recently reigniting 'Hangouts', bringing in integrations with Google Apps such as Sheets and Docs as well as natural language parsing bots (something Microsoft is also doing) and Workplace by Facebook (previously called Facebook at Work) is quietly gaining users. Gartner research predicts that globally businesses will spend $5.1 billion in 2017 on collaboration, conferencing and social tools.
There is also Symphony which rarely gets a mention in the same space as Slack because of its major focus on financial market participants. Might be one to watch as back in 2015 Google was part of a $100 million investment round into Symphony. Perhaps Google's plan is to integrate Google Apps like Sheets and Docs into Symphony in order to break into financial institutions that are all huge enterprise users of Microsoft Office?
On Your Marks……And They're Off!
2017 will be an interesting year – which company can innovate faster and gain more traction?
Slack was first off and has even upped a gear to appeal to enterprise users by offering the 'Grid' (perhaps they are concerned about the competition). Teams is free to its own Office 365 user base, which if Microsoft can crack gives the perfect entry point into the 1.2 billion desktop users Microsoft is pushing to the cloud (an area where revenues have doubled over the last quarter).
With ipushpull's vision of live data interoperability between all apps, whether desktop or web, our integrations with Slack, Symphony and Microsoft Teams mean whichever way the wind blows we can play an increasing role in this fast-growing collaborative market.
Watch this space…..