Digitisation of
Pre-trade Client Workflows
On-demand webinar and report

WEBINAR ON-DEMAND
Learn how J.P. Morgan, Goldman Sachs, Insight Investment and TP-ICAP are approaching the digitisation of pre-trade client workflows.
Understand how market infrastructure providers like CurveGlobal, Symphony and ipushpull are facilitating this by improving price discovery and building liquidity through standardisation, automation and live data.
REPORT
IMPROVING THE EFFICIENCY OF PRE-TRADE
CLIENT WORKFLOWS
In this nine-page Financial Markets Insights report we discuss the challenges around eliminating manual processes in the pre-trade negotiation environment. We look at how introducing standardisation of workflow tools and messaging can ultimately drive automation and help firms achieve greater efficiency, improve client communication and reduce operational risks.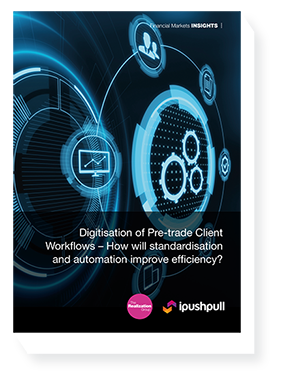 Submit the form to receive your
copy of the webinar and report
"Clients can seamlessly go from a live trade axe [distributed over ipushpull into chat platforms, API, Excel] into an execution workflow…"
Julien Dugat, FI Client Execution Platforms and Digital Sales, NatWest Markets
"We use ipushpull on Symphony to streamline complex trading workflow which means better pricing while improving efficiency and oversight"
Head of OTC Trading, UK leading Asset Manager
"We use the ipushpull data sharing and workflow automation platform to push live, actionable prices to our clients' desktops to initiate pre-trade workflows. It is a fast and cost-effective way to deliver just what we needed and gives us a strong foundation for future innovation."
Head of Cloud Platform Trading Technology, Leading Global Inter-dealer Broker